Dan (Plott) is SOLD!!
Dan (left) and Bear (right) are both bear rigging & catching dogs. Dan is a plott. He will rig, start, trail and tree his own bear. He was hit in the front shoulder by a bear this spring and doesn't run like he used to. He is 6 years old, neutered and will make a wonderful pup trainer plus rig bears to start your pack in the right direction. Because of his injury price is $1,000. He is featured in the Bear video we have for sale. He will also eat up a feral cat and is a good lion dog. He has made 3 long bear races since his injury.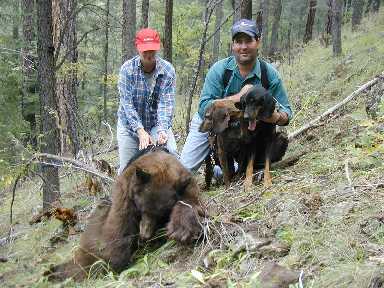 Bear is off the Market.
Bear is a B&T bear rigging unit. He is 5 years old and is featured on our bear video. If you can't seem to find bears or catch them this dog is for you. He has a super cold nose and runs a bear track heads up and wide open. He is a good lion dog and fair bobcat dog. This dog will hunt all year and love every minute. He is neutered and handles very well. He is priced at $3,500. Give me a call on either of these dogs at 928-337-3721. Tom Anderson